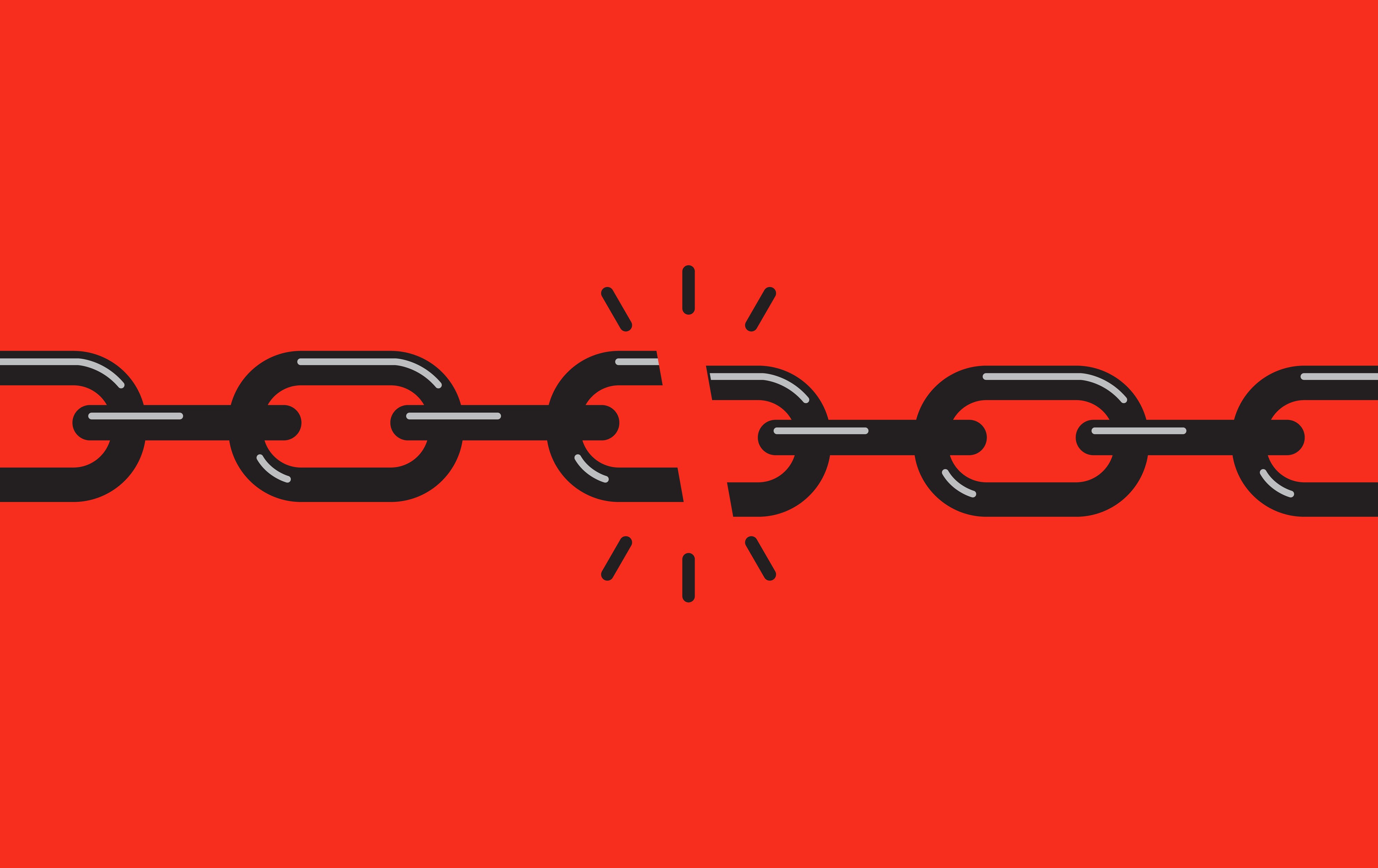 The Moving Man Method for Building Broken Links (+5 Ways to Use It)
The increasing competition in the field of online marketing makes it difficult for your content to be seen.
Even if you write the most impressive blogs, very few people will naturally link to you. That's why marketers are now experimenting with entirely new methods of grabbing attention. While some work, some don't. Some skyrocket the number of links to your content, others still don't work.
Cue the Moving Man method.
No one wants broken links on their site. They only create a bad user experience. That's exactly what you're trying to take advantage of here. And that's exactly what the Moving Man Method helps you do.
The name isn't that self-explanatory, so let's talk about it. A brief description would be link building on steroids. You might think we're joking, but that's really what this method is.
Moving man method
Find broken link on relevant topics and sites
Recreate dead content
Contact the site to replace the dead link with your content
Sounds simple enough, and honestly, it really is. The whole method is super scalable – you just need a process in place. Here's everything you need to know about the Moving Man Method, from its background to how you can perform it smoothly for promising results.
The Moving Man Method was first pioneered by Brian Dean of Backlinko. He managed to land several links to high authority sites – which would have been impossible without this method.
Since its success, the Moving Man method has grown in popularity and is now one of the safest ways to bond. It revolves around broken link building, which you may have already figured out. Although the tactic only has three easy steps, it helps to have a comprehensive guide along the way.
Why does the Moving Man method work?
A question that many have asked themselves. The answer is quite intuitive. If you tell people about broken links on their site, chances are they'll happily replace them with working links. Right now, you might be thinking, "The site can just find and replace broken links on its own." But realistically, no webmaster constantly checks every external link on their website to find and fix broken links.
The method also works because you don't have to create content from scratch. As we will soon see below, you can easily tell what the original linked content was. All you have to do is update or recreate the content and you're good to go, so you save a lot of time.
6 Ways to Perform the Moving Man Method
Here is a brief overview of all the steps involved in the Moving Man method before diving deeper into each one.
1. Look for broken links
So you know what the whole method is. But how do you even find relevant broken links in the first place? It sounds like finding a needle in a haystack at this point. Once you get there, you'll learn that it's easier than you thought.
You should look for websites relevant to your industry or business that have:
Changed their name
Moved to a new web address
Stopped offering its services
Have extremely outdated content
Close
We look for these special cases because they all lead to one thing we care about: broken links. Another way to find broken links is to start with some simple Google searches.
Use expressions such as:
"Announcement of our new website" + keyword
"Rebranding as" + keyword
"Citation needed" + keyword
"Rebranded as" + keyword
"The page no longer exists" + keyword
"Service no longer available" + keyword
Remember that keywords need to be very niche specific so that your results are fully relevant to your industry. Let's take an example.
In 2013, Moz (as we know it today) changed its name from SEOMoz to Moz. It also means that they have moved their website from SEOmoz.org to Moz.com. Therefore, all links to SEOMoz have been broken. Do you see where we are coming from?
If you find something like this, it means you just hit the backlink jackpot. If the site has good domain authority, that means hundreds of people linking to the content. Since all of those links are now broken, you can easily jump in and showcase your content.
POINT: You want to focus on high domain authority sites because more people naturally connect to those.
2. What was before the broken links?
Where now there are broken links, there was once valuable content. But the content is no longer there since the link is broken. So what are you going to recreate and present to people to get links? This step is to answer this question. There are free sites that take you back to show you what the broken page looked like.
The most commonly used tool is the Wayback Machine. Just plug in the broken page URL and you will know what was there in the past. This is the content you need to improve, update and recreate.
3. Find sites pointing to broken links
Now that you know of a site that has recently renamed or a piece of content that no longer exists, the next step is to determine how many sites link to it. These are the sites you are going to go to.
An easy way to do this is to grab the outdated, broken URL and put it into any backlink checker tool of your choice. There are plenty of free ones that give you a list of all the sites that link to broken content. This list makes your life so much easier.
It lists all your link prospects for you. You can reach out to all those prospects and suggest that they replace the broken link with your new resource. Chances are if you do this for a whole list of potentials, you are sure to get a decent amount of links.
4. Recreate link-worthy content
You now have all the information you need. So it's time to put your head down and improve the outdated content. There are several ways to do this.
Here are some examples :
More in-depth content
Statistics (or update old ones)
Infographics
Quotation
Listicles
Videos
Screenshot
Quiz
Other than that, stick to the "How To" and "Why" blog posts. These formats are known to generate more links than others according to a study by BuzzSumo. Just because you report the broken link to someone doesn't mean they'll replace it with your link, unless your content is worth it. So don't think you already have the links in the bag. You should always create content that is worth linking to.
5. Time to reach out and get your links
You've done all the hard work – it's time to reap the rewards. The last step is to contact everyone on the list in step three. Don't ask them for a link upfront. It just seems too pushy. Start by telling them about the broken link on their site. Then, kindly mention how you have a relevant post that they could link to if they see fit.
People will be more than happy to link to your content because by emailing them you are already adding twice the value to their site. The first time is when you report the broken link which destroys their user experience. The second time is when you tell them about other link-worthy content to make it easier for them. It is best to have an email template designed for these emails.
POINT: Use an email template generator if you need help creating the perfect email to send to all your contacts. But remember – keep that customization element intact!
Here's an email template you can use when you're new to the Moving Man method: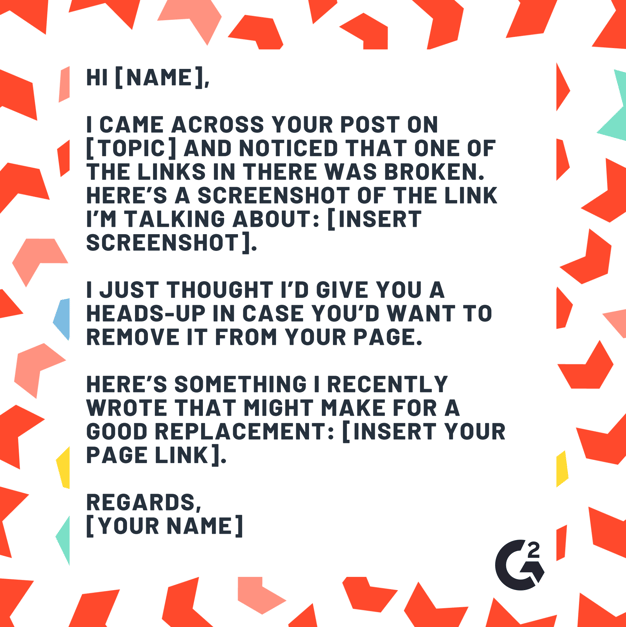 Don't forget to personalize this template a bit for each person you send it to. For example, don't start an email with the generic "Dear Editor". Instead, do your research to find the real name of the person you're emailing. It may seem like a small thing. But it's the little things that really set you apart from everyone else who is also fighting for backlinks.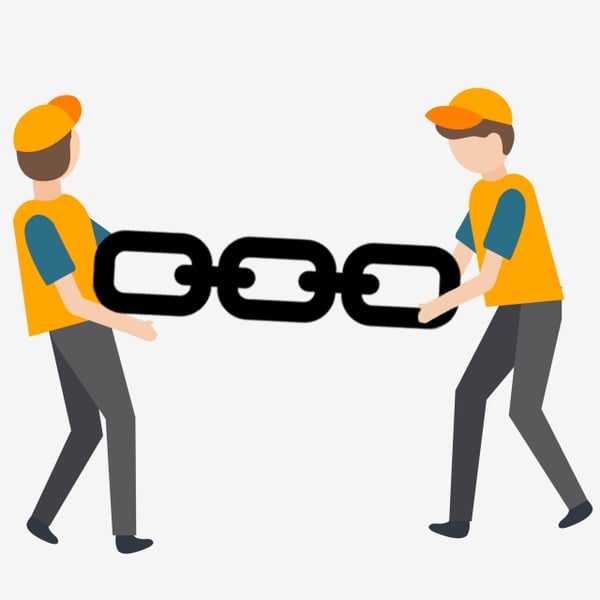 Special delivery – links to come!
Getting quality links AND creating amazing content is hard. The Moving Man Method facilitates both of these things. It reduces your work for you. You no longer create content from scratch and you have a baseline to build from.
Once you master the method, you will be able to earn more and more links along the way. You will get positive results right from the start. This is because you are doing someone a favor by giving them useful information to improve the quality of their site. So there's a good chance they're more likely to reciprocate.
So go ahead – it's time to let those links in.
Are you trying to create an expert link building strategy? Study the Skyscraper Technique and see how this, combined with the Moving Man Method, can help you get more links and overall site traffic!